Surface Finish Testing
We offer top-notch 2D & 3D surface finish & roughness testing services. Our profilometers are capable of doing thorough primary and secondary inspection of the manufactured part so you get nothing but the best.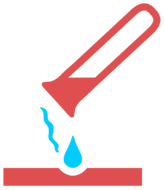 Hardness Testing
We also perform hardness testing both independently and as a part of our manufacturing inspection services. Getting this test done helps you determine the hardness value, machining feasibility, and wearability rate.

CMM Verification
We provide our clients with a complete CMM verification services including Jig certifications, CAD comparison, 3D inspections, and Dimensional analysis. 
GD & T
For clients looking forward to develop and verify their prototypes, we offer complete Geometric dimensioning and tolerancing (GD&T) services for your CAD drawings.
Let's Make Your Ideas Work Together!
Why MDA?
We are proud providers of delivering quality on time. Along with state of the art facilities and equipments, we have a team of qualified quality inspectors that ensure all the manufactured parts meet your project specifications. The tests are done on high quality industry standards.  
How are we different?
50+ Years Experience
ISO 9001:2008 certified system
Full-time quality inspector (backed by certified engineer)
Controlled Goods Number: CG16431
Measuring Equipment calibrated at regular intervals
Dedicated 230 square foot inspection room
Inspection Equipment includes – CMM – Mitutoyo Shadow Graph (with edge detector) – "Z" rated Pin Gauges – Hardrocker Hardness Tester and various other calibrated measuring devices
Solid Works and Design Works software to aid with various calculations
Avg. 15+ Years' Testing & Inspection Engineers