Our Metal Fabrication Cutting Processes
Punching
At MDA, we use manual and automated machinery for punching. Our team got you covered as we have state-of-the-art equipment for precise and fast cuts. We believe in quality comes first in everything we do.
Cutting
Our advanced and modern cutting equipment allows us to perform a wide range of cutting techniques on a variety of metal materials. We use everything from hand tools to fully automated digital cutting machines.
Forming
Machining Design Associated Ltd. specializes in sheet metal forming and industrial iron fabrication. We consider the details that will set your production of metal parts apart from the competition.
Laser
We have provided precision sheet metal laser cutting services for over three decades. From prototype through production, our experts will ensure that your product is made to exact specifications and with the fastest service.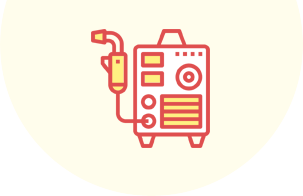 Welding
We provide outstanding and professional welding services with faster lead times. We have a cutting-edge workshop allowing us to provide the best service possible to our clients.
Water Jet Cutting
Water jet cutting is one of the best cutting solutions. At MDA, we use waterjets in different ways. It gets used in a variety of industries such as aerospace, automotive, manufacturing and rapid prototyping
Metal Fabrication Service with Machining Design Associated Ltd.
Lighter Parts:- Our experts are capable enough to create custom parts from a variety of metals. The parts we manufacture using sheet metal fabrication are much lighter than parts using other processes. Therefore, it leads to higher profit margins.
Enhanced Customization: Customization is a key reason professionals in various industries go with sheet metal fabrication. Our experts let you choose the design and material of the part you need as it helps to easily bypass various manufacturing challenges.
Low Production Cost: To reduce production costs in a competitive environment, advanced manufacturing technology must be implemented.
Faster Project Completion: We offer fast project completion without sacrificing quality and can really set your company apart.
Precise Parts: Our manufactured metal fabrication parts are ideal for almost every industry from medical to aerospace to robotics.
We Create Superior Metal Fabrication Machined Parts
Have a Project to discuss? What are you waiting for? Fill up this form, and we will get back to you as soon as we can!
Metal Fabrication Advantages
Metal Fabrication provides engineers and machine shop owners with a number of advantages. Compared to other traditional machining processes, metal fabrication has proven to be more effective. It is ideal for both the manufacturer and the client:
Metal fabrications are strong & durable
Metal fabrication is easy to customize
Lower production cost
Metal fabrication is easier to maintain
Various Metal Fabrication Applications
Metal Fabrication process has been used throughout history for amazing reasons, even more frequently in the modern world for new and demanding applications. And because of this, it provides various industrial applications which are:
Automotive Industry
Electrical Industry
Healthcare & Medical Industry
Aerospace & Energy Industry
Compatible Materials for Metal Fabrication
Trustable Metal Fabrication Partner
Machining Design Associated Ltd. is a certified CNC Machine Shop in Canada. We take pride in the fact that it is a fully licensed and certified metal fabrication company. We are well-known for the high quality of our work, our keen eye for detail and master artisanship. Fabrication is frequently a large task requiring razor-sharp precision and a meticulous, methodical approach. Fortunately, we can do both.
Metal Fabrication at MDA
We take pride in being experienced, dependable, and professional metal fabricators in Canada. As a result, we can meet the demands of our customers in the construction, processing, and equipment building industries.
Meet International Standards
Economical for prototyping and production
Fast turnaround times
Certified Quality